Miscellaneous, Architecture, Adresses
Praise to the Street Art!
Here is a subject of much debate… and a colourful one! However, being unable to consider all works and, as images speak louder than words, let's get straight to the heart of the topic at hand and see what Strasbourg's relationship with Street Art is. As I write these lines, a magnificent typo illustrates the ambiguous relationship between artists and works on one hand and the public and public authorities on the other. This "slip of the pen" was "rats" instead of "arts".
Though the very fashionable "Street Art" is praised today, so much so as to invite itself into bourgeois living-rooms or museums, we can agree that for a few decades, tags, graffitis, collages and other street works had more to do with rodent hunting than with a collector's quest.
Fortunately for us all, the attitudes are changing and here in Strasbourg, street art has made a place for itself. Let us see where in the city and how.
Here we can appreciate the different techniques as well as the variety of media.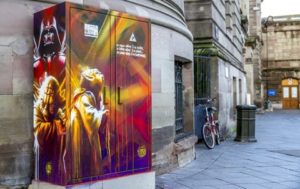 For instance, the electrical boxes. Let us admit that these concrete or plastic cases are most unsightly; so why have we spent so much money all these years to repaint such urban warts (yet necessary ones) that had found a vocation at last?
This artist, Dan23, whom I love for his style and his commitment, won the privilege to exercise his art without exposing himself to criminal prosecution. Here lies the first stone of a collaboration with the city and others will follow.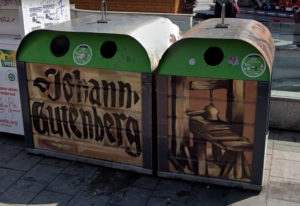 Such as here, with these recycling containers; the city installs some more ugly street furniture like this, which serves afterwards as a medium for artists. The works are generally in line with the place; here, for example, the printing press of Johannes Gensfleisch (better known as Gutenberg) or this one in front of the UGC multiplex cinema, with a nice pun on top. These collaborations may even help increase the use of such dumpsters and the recycling of waste (although it seems difficult to attribute such an increase solely to the object's artistic element – yet the question deserves to be pondered over).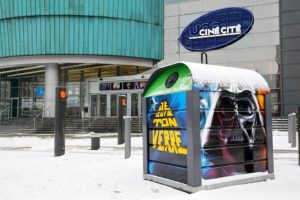 –
Another remarkable and admirable collaboration in the Eurométropole: the Museum of Modern and Contemporary Art. To celebrate its 25th anniversary (2018), the museum has hired the duo of New York artists FAIL. The pair was able to express its art on more than 1000m2 of the museum's facades. Check this out.
Made up from memories collected during their stay in Strasbourg, Patrick McNail and Patrick Miller wrote a poem dedicated to the Alsatian capital before illustrating it with these superb black and white compositions. Some other major players in the city will want to work with these artists from Brooklyn, in particular the SNCF (national train company) and the CTS (local bus and tram company).
Here is the glass roof of Strasbourg's train station :
The tramway :
These works are numerous in the streets of the city, so keep an eye out and take the time to discover them for yourself or with some company during a Happy Strasbourg guided tour. Our path may cross many of the works presented here, and we shall soon dedicate an entire visit to them! With a little luck, we will come across one of the artists as they work. That's something much more frequent now they can do so in the light of day, without fear of the constabulary.
Once again, it is difficult being exhaustive in such an article, so I would like to apologize to the artists that are not represented here and I invite them to contact us to discuss their work! Then we will be able to put them in the best light during our guided tours for the public to enjoy.