WE ARE PROUD OF OUR REWARDS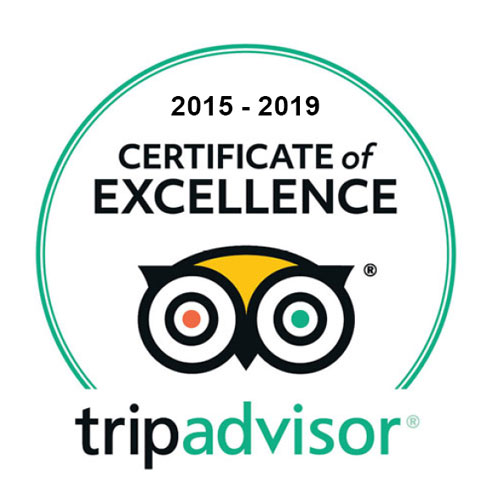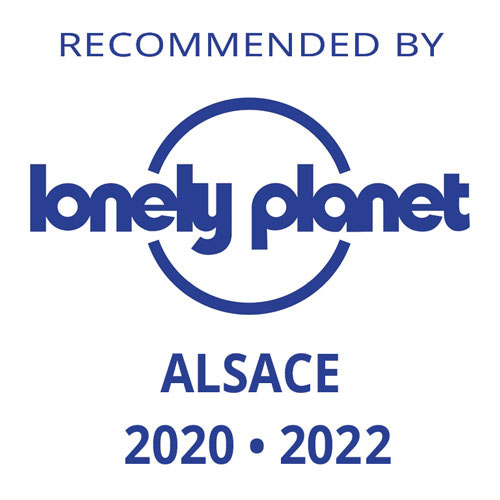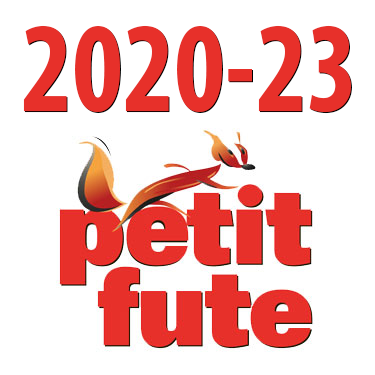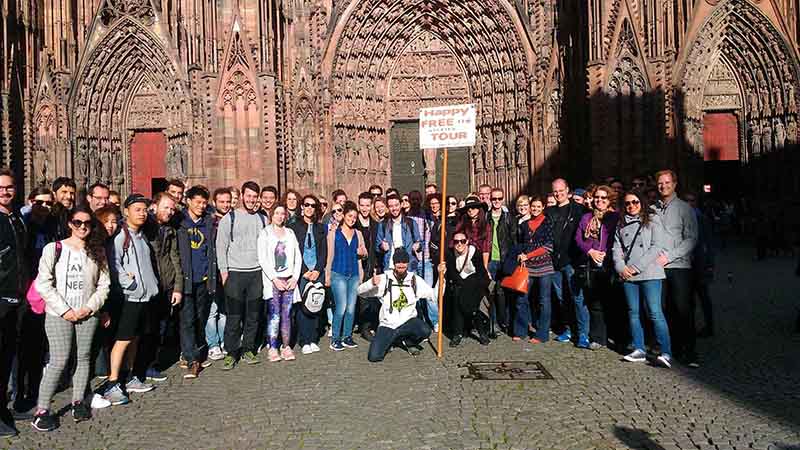 You are welcome to join them, check our calendar!
Up to 8 persons there is no need for reservation, just say hello to the guide, all our tours start in front of the cathedral! The guide always carries a big sign "Happy Free Tour", hard to miss it 😉
Calendar Overview
From janvier 8th to March 24th 2024 :
☻   Idéal Tour  in French at 11h every Saturdays and Sundays.
☻   Ideal Tour in English at 14h30 every Saturdays and Sundays.
From March 25th 2024 to January 5th 2025 :
☻   Petite France Tour in English à 11h everyday.
☻   Idéal Tour  in French at 11h every Saturdays, Sundays and French public holidays
☻   Original Tour in English at 14h30 everyday.
☻   Original Tour in German at 14h30 every Saturdays.
☻   Secret Tour in French at 14h30 on first Sundays of the Month.

Meeting point
All the free tours start in front of the cathedral.
Just look for the big "Happy Free Tour" Sign !
Meeting Point
All the free tours start in front of the cathedral.
Just look for the big "Happy Free Tour" Sign !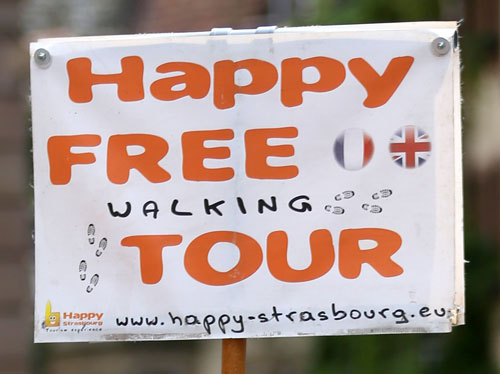 Meeting Point
All tours start in front of the Cathedral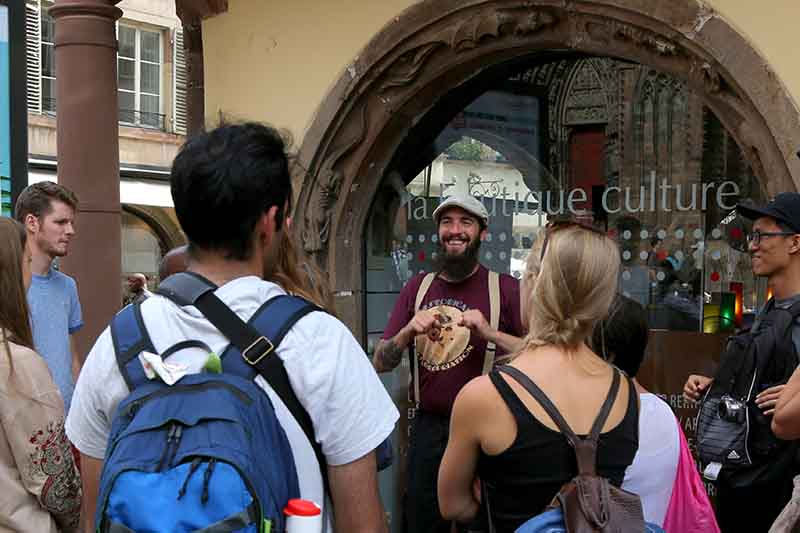 Happy Strasbourg also offers private, customisable guided tours, for team building, family trip, bunch of friends, or even to simply enjoy your own private guide!
We offer guided tours in English, French, or German for your pleasure.
Happy Strasbourg also works with travel agencies, we can adapt our tours to your programs and provide several guides at once for large groups.
Professionals

Happy Strasbourg also works with travel agencies, we can adapt our tours to your programs and provide several guides at once for large groups.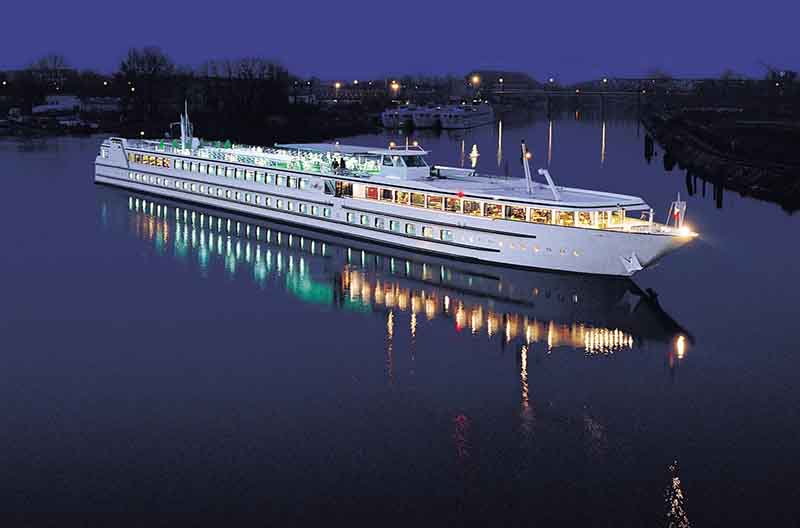 We are independent
We value our philosophy very much, therefore, in order to respect it, we remain independent, not affiliated to any organization other than us. For our love for Strasbourg we would not tolerate any compromise. And as such every tip, story and/or recommendation is inspired by the will to share the best bits of Strasbourg, the way we like it.
100% local guaranteed !
Because who could introduce you to the city better than the people living in it, and knowing the local culture from the inside? And as such we are able to give all the tips about what to do and where to go. Elise, Gabriel, Leo, Matthias and Remy were raised in Alsace, fed by alsatian food, immersed in local culture since childhood, we are ambassadors of our region.
Every tour is different
Because each of our guides created his own tour, regarding his own interests, specialities and personality. We are no robots, and therefore, each one has his own unique way to guide a tour and present things. And of course every one of you is different and we adapt our tours to our guests, because we love to exchange and interact with you!
Invested
Because while being fun-loving and openhearted, we take our job seriously and professionally, we give you the best of ourselves each and every guided tour, and try to answer every possible question, adapting ourselves to your interests and knowledge.
Passionate
Because we love our city and we love sharing it. We are eager to talk about everything and would hate to be boring, even for a minute.
You are 100% free
You can join our free tours whenever you want, no need to book, and you are free to leave whenever you want as well.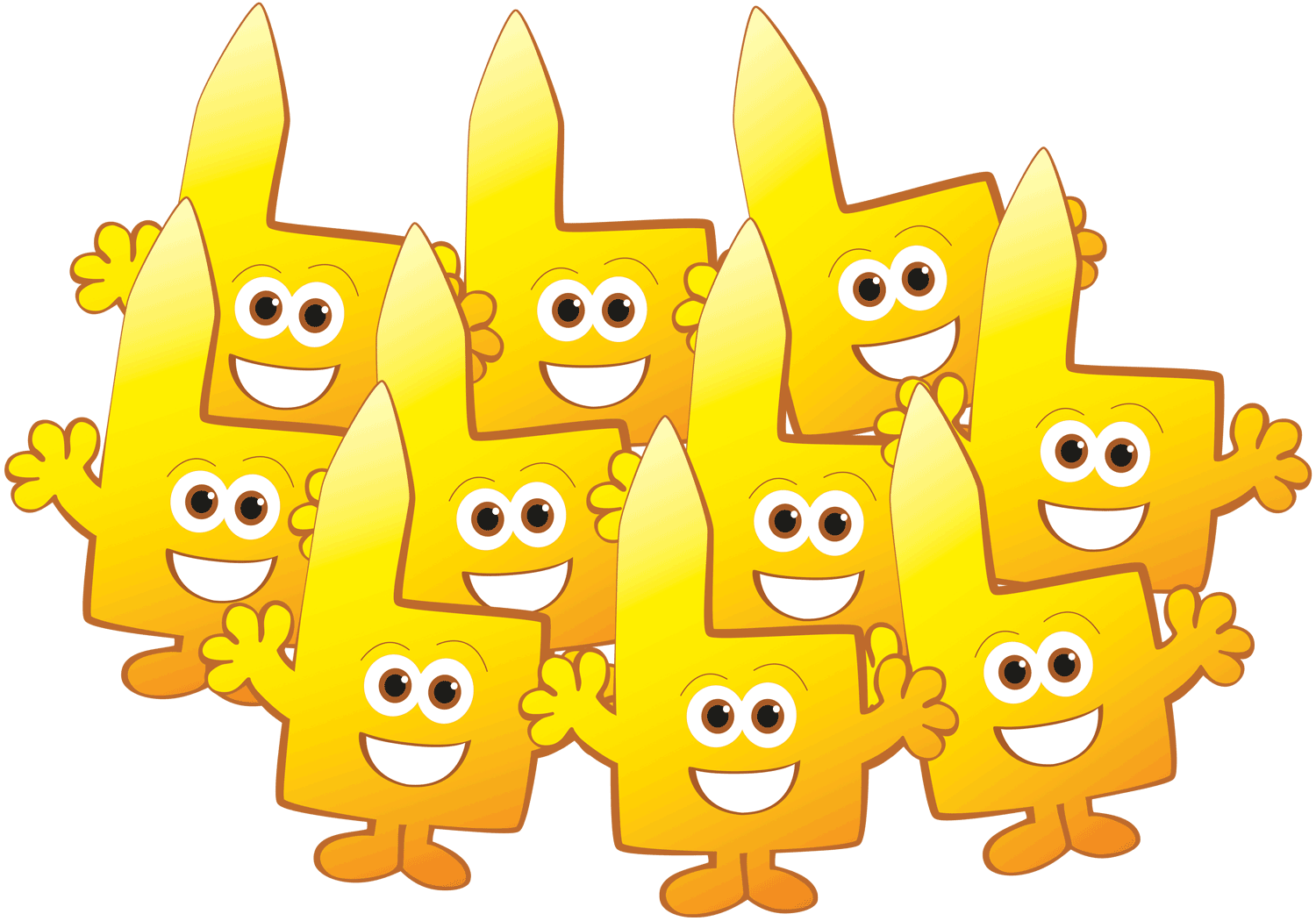 We are united
Happy Strasbourg is a member of the Free Tour Community, whose members are all local and independent initiatives, all operating under the "name your own price" model. Its new members are selected by current members on quality criteria, the most obvious of which is the overall rating given on sites like Tripadvisor. In this community we remain independent of each other, but we are committed to supporting each other to provide the highest quality cultural experiences and to promote the concept of free tours around the world. The idea is that by helping each other we all become better.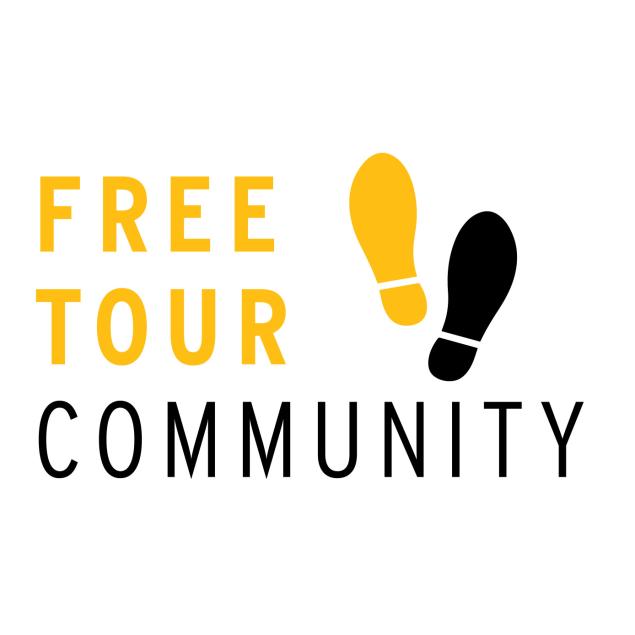 Super tour de la ville, Gabriel a été un guide parfait tant par son humour et par sa connaissance de sa belle ville de Strasbourg (la plus belle du monde)... read more Merci encore ! Et je tiens à préciser que le prix de la visite est libre , pour rester accessible pour tout le monde.
Mateo Sanchez


8 January 2023
Super moment avec Gabriel! Beaucoup d'humour et d'histoires au sujet de Strasbourg. Je recommande !
Guillaume Martinez


8 January 2023
Funny, informative and very enjoyable 😃 definitely recommend!
Rhiannon p


8 January 2023
We chanced upon Gabriel's group as they were checking in registrants and he gladly invited us along. It was both entertaining and educational. Gabriel did a magnificent job in his... read more storytelling - great detail yet interactive. We completed the tour inspired and with deeper appreciation of the city and its colourful history.
Keith Ching


1 January 2023
Went on the walking tour with Gabriel who was very knowledgeable and funny! Would recommend going on your first day because the rest of the trip is so much more... read more enjoyable when you understand the history of Strasbourg
Dana Spajic


25 December 2022
Great tour, it was very fun and informative about the basics of the city, Gabriel suggests his favorite christmas markets, too. Recommended to everyone who is visiting Strasbourg. Berkay &... read more Deniz
Deniz Piyadeoğlu


18 December 2022
Mathias was a great guide who is really passionate about his city. He explains a lot but there's more than enough room for questions. He's a really funny and sympathetic... read more guy and knows a looooot, so he could answer every question easily.
svenja1992


6 October 2023
A very happy tour - We did the Tour with Gabriel who is a very funny and knowledgeable tour guide. We learnt a lot about the vivid history of Strasbourg and heard some very interesting... read more facts about this beautiful city.
We would recommend this tour to anybody who would like to get to know this city and get first hand informations and recommendations of a local guide.
We enjoyed this tour very much
erikt514


6 October 2023
Enjoyable experience - The views were really nice and the whole experience was enjoyable with our guide, I definitely want to visit the recommended places.
Alexandre D


6 September 2023
Stimulating, thoughtful tours that will make think. - We had the superb experience of having Matthias guide us through Strasbourg on two separate tours. Using his education and personal observations, he highlighted many of Strasbourg's amazing sights and... read more provided vital context and insights that brought the town's history to life. He did it all with elan and good humor.
haydukepdx


5 September 2023
Nice historical overview of Strasbourg - We took a free 2:30 pm tour of Strasbourg with Matias. He was very informative, fun and gave a lot of historical details. The only thing I wish We could... read more do more is to walk inside the town because we were deviating a lot
KaterinaRich


27 August 2023
WE ARE PROUD
OF OUR
REWARDS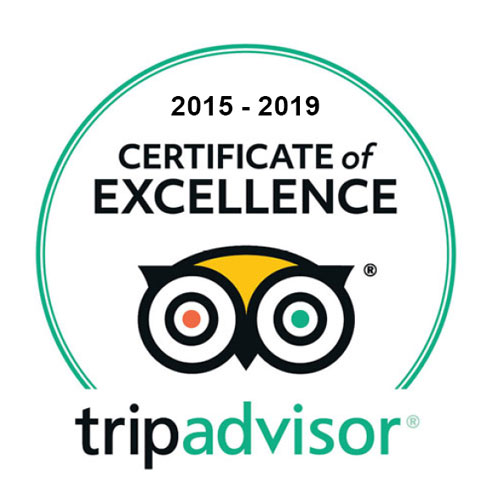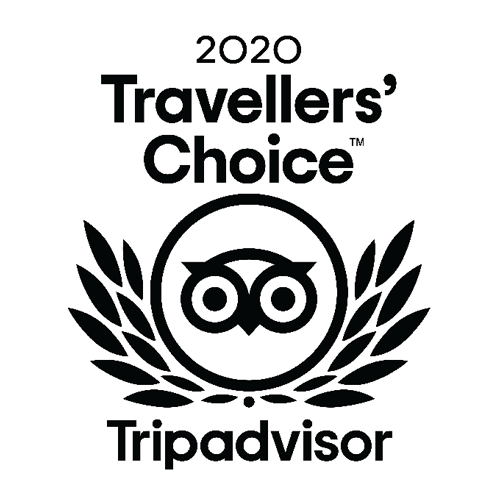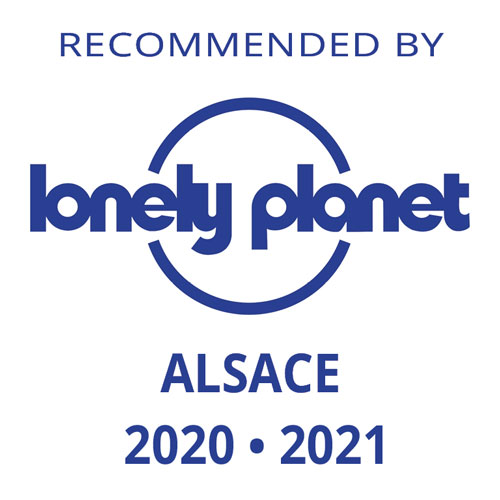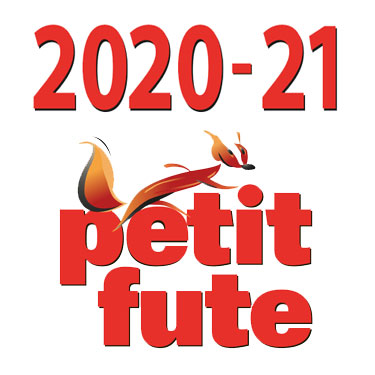 Statistics as of December 31st, 2022