FREE TOURS
What is a "Free Tour"?
Well, it is very simple, the Free Tours are guided visits, by foot, based on the great concept of free pricing. First, you take part in an AMAZING Free Tour, and at the end, if you liked it, you will be encouraged to give the guide any accessible tip, according to what you think the service is worth.
We offer different Free Tours, at different times, but there are some every day in season, and every weekend off season!
(The off season usually goes from January's second week to March's second to last week)
All our Free Tours start in front of the Cathedral, at the corner with rue Mercière. The guide always carries a big "Happy Free Tour" sign, hard to miss it 😉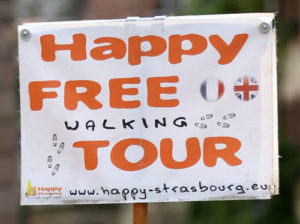 Our tours are meant to be lively, with personality, passion and fun, because our guides put their hearts in it. To put it in a nutshell, we want to live up to our name : the Happy Strasbourg Tours!
Not sure about joining us yet? Check our reviews and pictures left by travelers!
We do not offer any Free Tour in German, but we would be happy to book a private tour in this language, on request.
In the Happy Strasbourg team, we are all native and passionate guides. Our goal is that during the visit, you feel like you are walking with a friend who would always be HAPPY, interesting, and also ready to give you all the advices you need, so no more hesitation, join us!